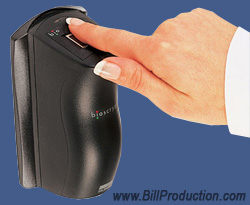 http://www.l1id.com/pages/399-bioscrypt-v-pass-fx
BillRedirect Software Description
Bill Production is a leader in communication software solutions at low cost. Our intelligent software can easily send Bioscrypt V-Pass number directly in your existing application software without programming. It can also transfer data to Excel or Point Of Sale software. It's extremely easy to use and 100% reliable.

Can also be used to create a log file (Date, Time, UserNumber) readings made by the scanner.

No programming or additional hardware required !

Features included

Debugger
System Tray running
Mouse control
Support RS232 serial and USB V-Pass
Control multiple Bioscrypt V-Pass readers
Communication over Ethernet


Password protected configuration
Parse, filter and format complex data
Windows API keyboard 32 Buffer or OCX
Sends data to default or specific application
(POS, database, Excel, Word, or your own customized software)
Serial port over Ethernet


Inputs Bioscrypt V-Pass FX™ (biometric finger-scan) reader number directly into any Windows softwares as if it was typed in using the keyboard. Can also send the number directly in a field of any software and click on a button.

(Windows 98,Me,2000,3000,XP,NT4, Vista)



Full Version License only: 45$ CAD

* You Don't need a PayPal Account to place a Credit Card Order.
* Use the option: Don't have a PayPal account