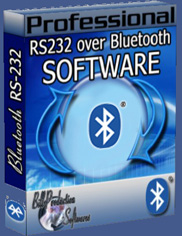 Access RS232 devices over Bluetooth Wireless and TCPIP with BlueConsole and Bill-Redirect

BlueConsole is a Bluetooth Serial Adapter that provides true wireless Bluetooth access to conventional RS232 ports. Using BlueConsole with Bill-Redirect Software, enables BlueConsole Bluetooth RS232 device to communicate with your Windows applications. This allows information to be entered directly into Windows programs as if it was typed in using the keyboard. Input serial data directly into EXCEL and POS Programs. It is extremely easy to use and 100% reliable.
Inputs data from any RS232 device

Very easy to use - one screen, one minute set-up (Free support).

100% accurate and 100% reliable.

Control multi BlueConsole on the same computer.

Adds keystrokes, if required, to automate data entry.

Supports password protection of set-up files.

Fully compatible with any PC or laptop.

Sophisticated data parsing and filtering

Advanced keystroke macro insertion before and after your data

Date & time stamping of your serial data

Powerful DDE (Dynamic Data Exchange) support Microsoft Excel

Optional disk file logging of serial data

Full 2-way serial I/O to send data and commands out to your serial devices...

No programming required !

BillRedirect Application example
BillRedirect allows redirection of a Serial/COM Port to a TCP/IP socket or a file. It allows you to use your PC as a TCP/Telnet server linked to a Serial/COM port on your PC. It is a particularly insteresting application when used with a Blueconsole adapter. It allows a remote LAN/WAN/Internet IP user to Telnet to your PC and reach your Blueconsole adapter COM port. So it redirects from TCPIP/Telnet, to a COM port, then to Blueconsole.
You can download this application as a Demo Trial Version: Bill_COMtoKB.zip
The application will launch into your Windows tray.
You must type "www.billproduction.com" as the Password to use it.
Click the "On" switch valve on the Serial Port, and enter your Blueconsole Outgoing COM port number.
Then click the "On" switch valve on TCP Port and select "Server".
The default TCP socket for Listening is 3333 so that is the Port you should telnet into (e.g. "telnet 10.1.1.100 3333")
Upon connecting via telnet, you will be redirected to the Serial Port/Blueconsole.
To exit the application, type "end" in the Password field.
Full Version License only: 35$ USD

* You can use your license with the
Lite
and
Full
interface.
* You Don't need a PayPal Account to place a Credit Card Order.
* Use the option: Don't have a PayPal account